CrossFit Kids Fayetteville, est. June 2014
We apologize for the inconvenience but our CFK program is on hold until further notice. Keep checking back for more info!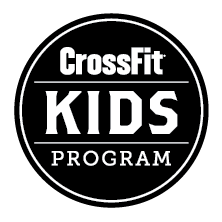 We are the First & ONLY affiliated CrossFit Kids program in Fayetteville. That means your child will have a knowledgeable trainer, your child's trainer will have a yearly background check AND the programming will be specifically designed for your child's age. We want nothing less than to provide your children with absolute highest quality program possible with the most FUN imaginable!
What is it?
CrossFit Kids is a method for teaching CrossFit to children and teens, ages 3-18. CrossFit is a fitness regimen developed by Coach Greg Glassman over several decades. He was the first person in history to define fitness in a meaningful, measurable way (increased work capacity across broad time and modal domains). CrossFit itself is defined as that which optimizes fitness (constantly varied functional movements performed at relatively high intensity).
In the latter half of 2003, Jeff and Mikki Lee Martin started using CrossFit with the teens at their small martial arts studio in Ramona, California. Soon after that, Coach Glassman requested that the Martins create a program specifically for children, and the first CrossFit Kids workout appeared on the Internet (www.crossfitkids.com). The CrossFit Kids program is now in thousands of gyms and schools around the world.
CrossFit Kids is a strength-and-conditioning program that is specially designed for kids and teenagers and their specific developmental needs and helps them to develop a lifelong love of fitness. In a group setting, children and teens participate in fun and engaging workouts that deliver measurable results and prepare them to be well-rounded athletes.
CrossFit Kids workouts consist of constantly varied, functional movements that deliver a fitness that is broad, inclusive and general (B.I.G.) and are scalable for any participant at any level.
Constantly varied means that, for the most part, no two workouts are the same, so kids and teens never get bored and the novelty of each workout keeps them excited about participating.
The functional movements involve exercises that are fundamental to all things that kids need to do when they play— pull, push, run, throw, climb, lift and jump. All of the movements are taught safely and effectively under the close supervision of thoroughly trained CrossFit Kids trainers.
When fitness is defined as broad, inclusive, and general (B.I.G.) it means that participants will become well-rounded athletes who will be better at any and every sport that they play because CrossFit Kids doesn't coach them to be good at just one thing. Our workouts will increase physical competence in 10 fitness domains: Cardiovascular and Respiratory Endurance, Stamina, Strength, Flexibility, Power, Speed, Coordination, Agility, Balance, and Accuracy.
With workouts that are scalable, CrossFit Kids can equally benefit a person who is less active or an accomplished athlete by tailoring workouts so that each participant is challenged just enough to deliver measurable results and personal athletic progress.
CrossFit Kids aims to avert childhood obesity by creating an excitement about exercising and providing the foundation for a lifetime of healthy eating by focusing on the importance of good nutrition that complements physical activity. While workouts are fun, they also increasingly demand strength, stamina and perseverance. The physical and mental demands of CrossFit Kids foster self-confidence, discipline, persistence, problem solving, and integrity that can be applied in all areas of children's lives.
Important Safety Note: Start slow. Yes, we want the kids to work hard, but we never demand children to work harder or faster during a workout. This is a critically important point: With children, we always privilege good movement over speed. (1) We do not want them so sore the next day that they are hurting. (2) It is our long-standing experience that when children move well consistently over time, they will eventually move faster safely.
Getting Started:
If you and your child are interested in trying out our FUN FITNESS program, email: crossfitfayetteville@gmail.com or call 479-925-8575!!!
Classes are held Mondays, Tuesdays & Thursdays at 4:30pm-5:15pm for ages 6 and up. Some exceptions are made depending on maturity. If classes become too large, we will open up other CrossFit Kids class times.
BEFORE your child can participate, you must fill out a waiver for each child and read and sign the letter of expectation. Please print and fill out each of the following PDF documents prior to arrival:
 Letter of Expectation CFK-Fay (click on the link and click on the title to print)
CFF_NWABBC_Waiver2014 (click on the link and click on the title to print)

CrossFit Kids Fayetteville:
1st Child Unlimited per month: $30
Additional Children Unlimited per month: $20